SAFE 20 Test Preparation
The SAFE Act requires state-licensed Mortgage Loan Originators (MLOs) to pass a written qualified test developed by the NMLS and administered by an approved test provider. Depending on the state agency or agencies in which applicants are seeking licensure.
This exam is not to be taken lightly as it is a VERY comprehensive overview of the mortgage industry and will require a significant amount of study to prepare.
My Mortgage Trainer is please to offer you several individual products to assist you with that preparation as well as a complete bundle of our entire suite of test prep products in our TEST PREP PLUS product which is hands down the most economical and best option for students to successfully prepare for the mortgage licensing exam.
In addition, we are proud to offer individual private tutor sessions and can customize your session in specific topic areas if you feel you need them! Call our office at 317 566 0425 and schedule your private session today!
Check out our test prep options below:
$179.00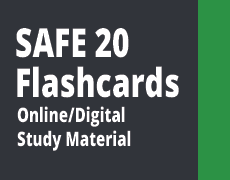 SAFE20 Flashcards
$59.00