BioSig-ID™ Creating Your Password
In accordance with NMLS guidelines and requirements for all NMLS approved course providers students must complete an identity verification process during all continuing education courses. This verification is processed by BioSig-ID™, a third-party BioMetric Signature service.
If you have never taken a course that uses BioSig-ID™ you'll be asked to create your password the first time you enter the BioSig-ID™ system. You will draw your password using your mouse, or other drawing device. Your password may consist of numbers, letters, shapes, etc.
We recommend keeping your password drawing as simple as possible! Using something like the digits 1 7 1 7 will allow you to easily reproduce the password drawing when prompted throughout the course.
When creating your password be aware of the direction in which you are drawing, number of times you stop and start a new line, etc. The BioSig-ID™ tracks your unique drawing style to identify you. This is why keeping it simple is best. Trying to reproduce a complex drawing vs a simple drawing will lead to authentication failures and a lot of frustration.
When you first create your password drawing you'll be asked to reproduce it several times in order to verify that you can reproduce it the same way every time. If you do not draw in the same direction and with the same number of lines the system will reject it and you'll have to start over again.
Below is an example of how you would use 1 7 1 7 as your password drawing. Again, this is a recommendation, you do not have to use this as your password.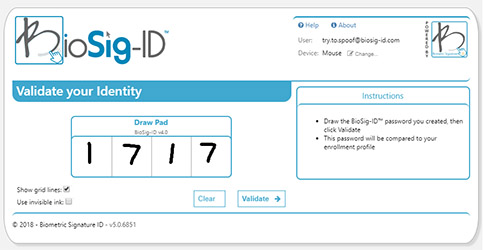 If you require assistance with your BioSig-ID™ password contact the NMLS Hotline at (855) 665-7123 M-F 9:00AM to 9:00PM Eastern Time or open a supprot ticket through the NMLS Help Desk. (Scroll to the bottom of the page to open a ticket!)